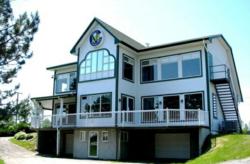 "Our new headquarters gives us the opportunity to add amenities to keep our employees happy and focused on serving our amazing community of IT pros."
Devolutions, the Canadian-based creator of Remote Desktop Manager (RDM), which is used by more than 200,000 IT pros in over 90 countries, announced today that it is expanding its worldwide headquarters to a 500% larger space in Lavaltrie, Quebec (near Montreal).
According to the company, the expansion is a result of two key factors: to make room for a steady stream of talented new employees across all departments; and, to accommodate the surging demand for the company's suite of solutions which, in addition to all three RDM versions (Enterprise, Server and Online), also includes Password Vault Manager (PVM).
"In addition to giving us the space we need to develop and deploy our products, our new headquarters gives us the opportunity to add a fitness center and other amenities to keep our employees happy, motivated and focused on serving our amazing community of IT pros and teams," commented Devolutions' CEO and founder David Hervieux. "In the past year alone, we've increased our staff by 100%, and are looking to increase it by at least another 100% in the next 1-2 years."
At the same time, Devolutions hopes to attract other growth-oriented IT firms and experts to its Lavaltrie-based campus, and create a unique "Quebec version" of Silicon Valley.
"The leading-edge IT talent in this part of the world is one of the industry's best kept secrets," added Mr. Hervieux. "By co-locating with cross-functional firms -- from enterprise software developers to hardware designers and more -- we can truly harness something special, and create solutions that take IT pros and teams to the next level of performance, efficiency, productivity and results."
Devolutions' expansion to its new, larger Lavaltrie headquarters is expected to be complete by the end of August.
For more information or media inquiries, contact Maxime Trottier, Marketing Director, at (514) 360-3686 or mtrottier@devolutions.net.
About Devolutions
Established in 2004, Devolutions is a Canadian-based company located near Montreal, Quebec. The firm currently has over 200,000 users in over 80 countries. The firm's mission is to develop innovative enterprise software that helps users cost-effectively, simply and effectively achieve their network management, password management, credentials management and security goals. The firm is also committed to providing exceptional technical support, ensuring an excellent user experience that exceeds expectations, and delivering high performance with superior quality. The firm's current roster of solutions includes Remote Desktop Manager, Password Vault Manager, Remote Desktop Manager Online and Remote Desktop Manager Server.
Learn more at devolutions.net