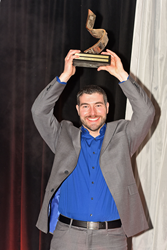 "I am very humbled and grateful to Investissement Québec, the AQT, and to my peers across the ICT industry for this award"
Remote Desktop Manager (RDM) creator Devolutions proudly announces that the company's founder David Hervieux has won the prestigious "2016 Investissement Québec CEO of the Year" award, which was presented in a special ceremony last week at the Quebec Technology Association's (AQT) CEO Vision in Mont Tremblant, Quebec.
The annual award, which is organized by the AQT in collaboration with Investissement Québec, recognizes a technology-sector CEO's exemplary leadership and contribution to raising the profile of Quebec's dynamic Information and Communications Technologies (ICT) industry.
Voting for the award was weighted by a jury (10%), online votes (40%), and votes cast by CEO Vision attendees (50%) following a presentation by each of the award's three finalists, who alongside Mr. Hervieux included accomplished and acclaimed leaders Mr. Paul Raymond, CEO of Alithya, and Mr. Samer Saab, CEO of eXplorance. The independent survey firm SOM Research and Surveys was retained to govern the integrity of the voting process and tabulate the results.
"Small and medium-sized businesses in the ICT industry have to stand out in a highly competitive environment, and the men and women who build them have to be leaders and innovators," commented Investissement Québec President and CEO Pierre Gabriel Côté in an announcement published on the AQT website. "Congratulations to the 2016 winner, David Hervieux, for the great determination and strategic vision he showed at the helm of his company."
"Congratulations to David Hervieux, honoured as the 2016 CEO of the Year by his peers!" commented Nicole Martel, CEO of the Quebec Technology Association. "His outstanding leadership contributes to the influence and visibility of the ICT industry in Quebec while also providing inspiration to other entrepreneurs."
"I am very humbled and grateful to Investissement Québec, the AQT, and to my peers across the ICT industry for this award," commented David Hervieux, whose company's flagship product Remote Desktop Manager is used by over 270,000 IT pros and teams in more than 120 countries on 5 continents. "I would also like to share this award with my incredible colleagues who inspire me each day, and our community of users around the world who are the heart and soul of Devolutions."
Added Mr. Hervieux: "In the bigger picture, this award is a testament to the strength of the ICT community, and how together we are making this part of the world a renowned hub of innovation, ideas and expertise. I am extremely proud to be part of such a collaborative and talented group!"
For all other information or media inquiries, contact Maxime Trottier, Marketing Director, at (514) 360-3686 or mtrottier@devolutions.net.
About Devolutions
Established in 2004, Devolutions is a Canadian-based company located near Montreal,
Quebec with over 270,000 users in over 120 countries on 5 continents, and a growing customer base that includes Shell, Walt Disney, Dell, Sony, Airbnb and NASA. The company is on a mission to develop innovative enterprise software that helps users cost-effectively, simply and effectively achieve their network management, password management, credentials management and security goals – and ultimately "Control IT Chaos" in their environments. The firm's current roster of Windows, Mac and mobile solutions include Remote Desktop Manager, Password Vault Manager, Devolutions Server and Devolutions Cloud.